If you have answered yes to either question, you have a tedious task on hand. Outlook for Mac stores emails, attachments, contacts, and other related content in an .OLK file format, which isn't supported by Outlook for Windows. However, you can export the mail items from Outlook for Mac to OLM format through the export wizard and then convert the OLM data file to Outlook importable PST format to transfer mail items from Outlook for Mac to Windows.
But converting data from one file format to another is anything but easy as the structure and file format tend to be different, thereby making them incompatible.
An easy way to accomplish this task is to use the vMail OLM to PST Converter, a premier product from a world-class company that specializes in the email migration, repair, and recovery of Microsoft Outlook and Exchange-related data.
What is vMail OLM Converter?
The vMail OLM Converter is a professional tool to convert OLM to PST format, with complete integrity and without any loss of data or folder structure. This means the folder tree structure in your mailbox remains the same even after converting OLM to PST format.
The software is available in two editions,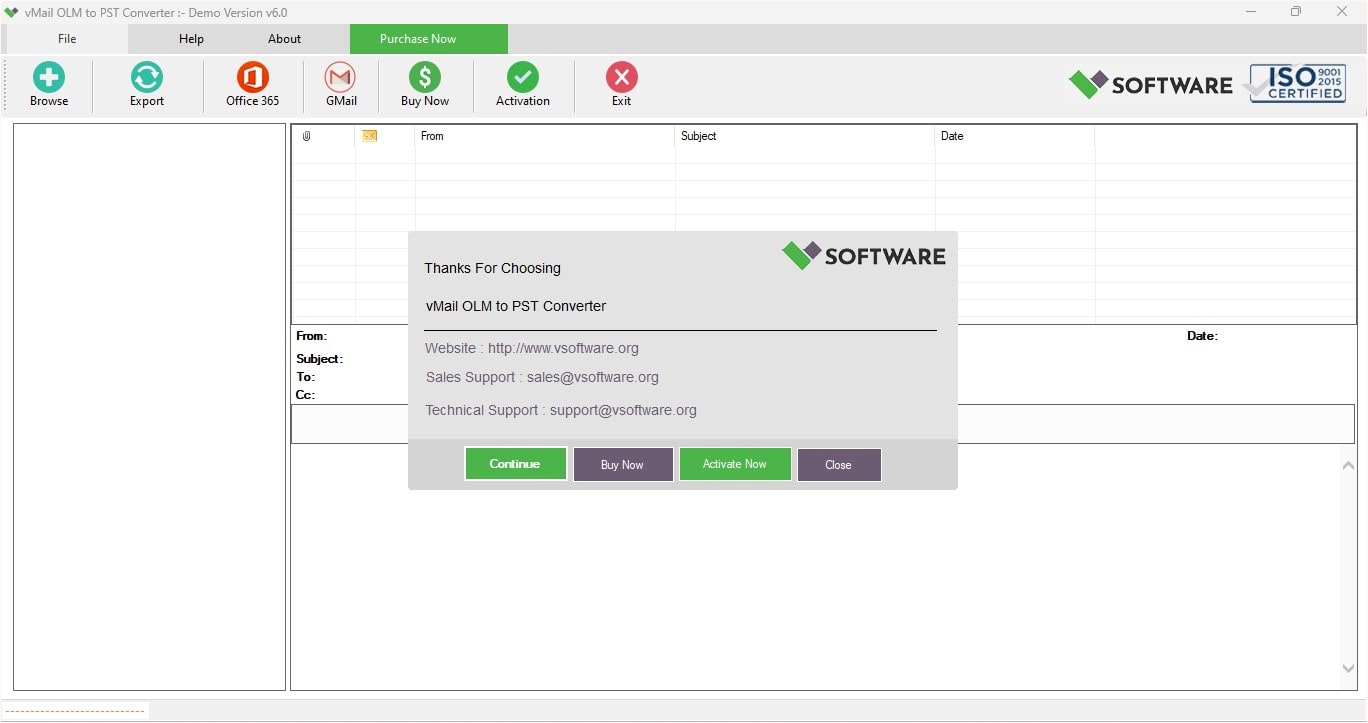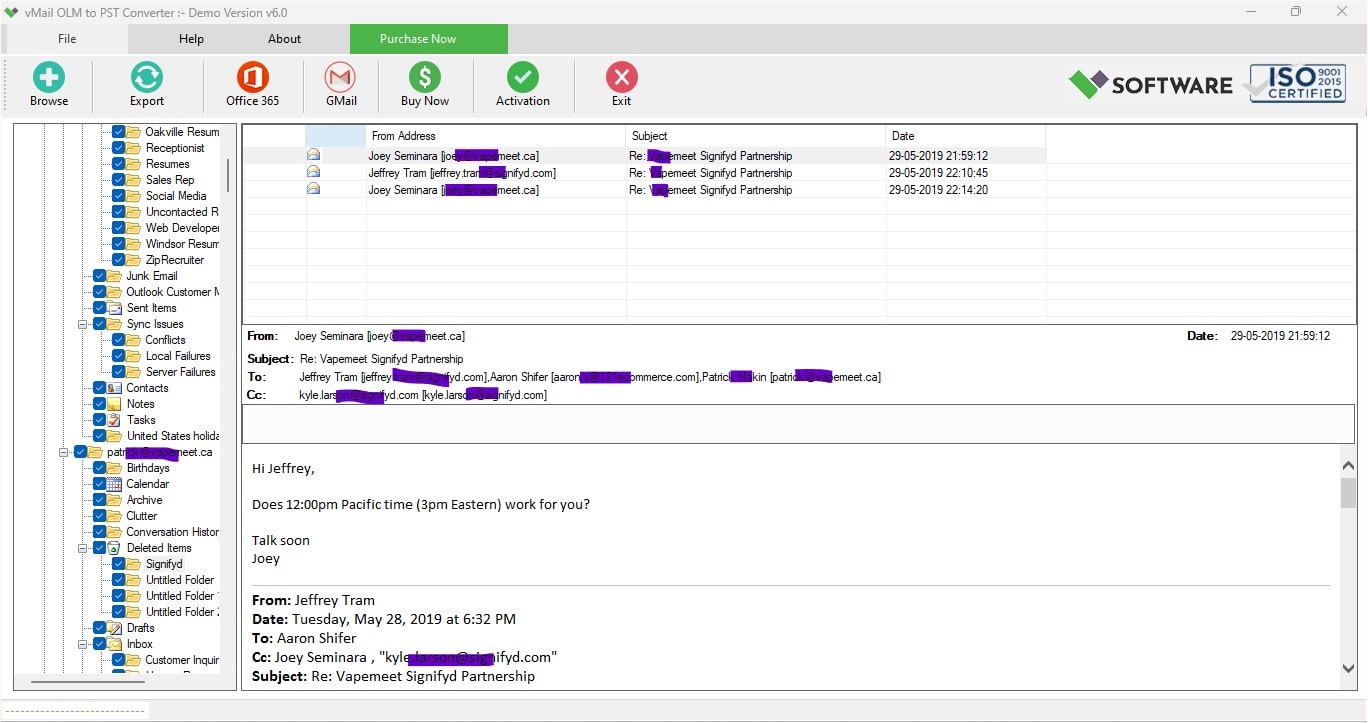 Standard Edition
The standard edition can convert all mail items from OLM files, such as emails, contacts, attachments, calendar items, etc., to PST, MSG, and EML formats. Besides, it offers the following features,
Automatically finds and lists all the OLM files for quick conversion
Provides enhanced preview of mail items for precise recovery
Allows you to choose the specific mail items for conversion to PST and other supported formats
Generates a detailed log report that you can analyze at any time
Works well on both 32-bit and 64-bit versions
Supports all Windows Outlook versions (2019, 2016, 2013, 2010, 2007)
Technician Edition
In addition to features available in Standard Edition, the Technician Edition offers the following features,
Exports the data from OLM directly to Office 365
Converts mail items to additional file formats, such as PDF, HTML, and RTF
The license for Technician edition allows you to install and use the software on multiple systems
Why choose vMail OLM to PST Converter?
When compared with other OLM to PST converter tools, vMail OLM to PST Converter stands out for its ease of use. File conversion is a complex process, especially when it comes to email data files. vMail uses an intuitive UI as a front-end for all that complex processing, so you don't need to know or worry about the backend process as a user. This way, you'll only see and decide what you have to, while the processing is handled in the background by the tool.
All you need to do is select the OLM file, convert, and then save the converted mail items in an Outlook importable PST format at your desired location.
With vMail OLM to PST Converter, that's how easy it is!
How to Use the vMail OLM to PST Converter?
Using the vMail OLM to PST Converter Software is super easy and requires no prior technical knowledge or coding. You can download and install the software on any Windows system that meets the following specifications,
Processor: Pentium Class
Memory (RAM): 2GB minimum (4 GB recommended)
Storage: 250MB storage space
Operating System: Windows 10, 8.1, 8, and 7
Then follow these steps to convert OLM files to PSTs.
Step #1: Find the OLM Mailbox
As soon as you download, install, and open the tool, you'll be prompted to choose a mailbox. You can either browse through your computer's folders to find the mailbox you want or simply use the search feature.
Step #2: Scans the Mailbox
Once you choose the mailbox, the vMail OLM to PST Converter will start scanning its contents.
Once it's done scanning, all the contents present in the mailbox are displayed in the preview pane.
Step #3: Make your Choices
Based on what's displayed in the preview pane, choose the content you want to save and select the destination file format. You can choose PST, EML, and MSG in the standard version, while the technician edition offers more choices, including Office365.
Also, decide if you want to move the contents to a new PST file or append an existing one.
Step #4: View the contents
After you make your choices, the tool will start its background processing. This can take anywhere from a few minutes to a few hours, depending on the size of the file.
Once it's done, open the new file in Outlook and access your content.
As you can see, it is really simple to use this converter tool.
After the OLM file is converted and saved in PST file format, you can import or open the converted PST into Outlook to access all its mailbox data.
Conclusion
Converting from OLM to PST can be an arduous process and requires expert technical knowledge. Since Microsoft does not provide any tool to convert Outlook for Mac data files to PST, you need to rely on a third party OLM to PST converter tool, such as vMail OLM to PST Converter. It is an easier and convenient option to quickly convert and move your mailbox items from one platform to another, i.e., Outlook for Mac to Outlook for Windows, without data loss.
It also keeps the structure intact and helps you migrate your mail items from Outlook for Mac or OLM file to Office 365 with 100% integrity.
Get more info- https://www.vsoftware.org/olm-to-pst-converter.html