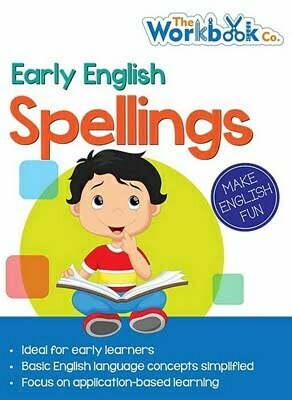 We often see that little ones get bored from their school curriculum Best workbooks for kids and for their better understanding about the subject. One can not rely just only on those school textbooks. One has to refer to other books too. For that matter, workbooks play a major role in education. They are an aid to the text books. They are the helpers which help kids to cope up with their books.
The workbooks are available for many subjects. Be Best workbooks for kids Science, Maths, English or any other. One could easily find those books for their little ones. The kids should learn from both the textbooks as well as from the workbooks. This makes the little one's concept more sharper and they get to understand in a better manner. This also makes learning a bit easy and fun for the kids. This eases their burden and helps them learn better. 
There are various publishers who publish workbooks for different age groups. Some of the famous book publishers in India are Tulika Publishers, Tara Books, Little Latitude, Pratham Books, Chand Publishing and many more.
One such children's book publishing company is Pegasus. Pegasus is very famous among the parents and the children. Their products are highly attractive and eye-catching. They tend to grab little ones attention and little ones really get fascinated by the products. Their products include books, games, puzzles and toys for kids aged 0-12 years old. The parents get to see a variety of products. They could choose according to their needs and interests.
Pegasus caters to various workbooks for the little learners targeting different age groups. Keeping in mind the needs and interests of the young learners they have curated their workbooks accordingly. Their books come in very attractive covers. Their books make the learning a fun process. Kids never get bored of their workbooks. The books are designed in a manner that interests the little ones. Kids get happy seeing Pegasus products.
Here's a list of some of the very famous workbooks from Pegaus:
This is a series of 9 workbooks. Each book is based on preschool topics that prepares the toddlers for school. These workbooks are die-cut shaped books with foil cover. The titles in the series are capital letters, small letters, capital and small letters, numbers (1-20), numbers (1-50), numbers (1-100), colouring activity 1, colouring activity 2 and pattern writing. These books help little ones to develop fine motor skills as they learn the pencil control. 
My Ultimate Practice Workbook
These ultimate practice workbooks are ideal for kids aged 2+ years and there are 6 workbooks in this. These workbooks introduce little ones to basic topics ensuring development of motor skills. The kids get to fine tune their handwriting and they get to know about the phonics and first words. The 6 workbooks are cursive writing, handwriting, phonics, sight words, sight words & sentences, phonics letters & word sentences.
These workbooks are ideal for kids aged 3+ years. There are English and Maths workbooks for kids. These workbooks are level based. Parents could buy these books as per the level of understanding and interests of their toddlers. The books focus on the early maths and english to the primary maths and english. These workbooks are quite engaging, reinforcing and easy for the kids to learn. 
These workbooks are for kids aged 4+ years. The kids get to learn the basic concepts of maths. They get to know about counting, decimals, fractions, measurement, money, pattern, shapes, addition, subtraction, division, multiplication and time. These workbooks are not only for Maths. But these are also for English where the kids get to learn capital letters, consonants & vowels, nouns & verbs, phonics, reading comprehension, rhyming words, small letters, spellings and sight words.
Logical reasoning workbooks help kids to develop their problem solving skills and to make decisions based on what happens. These workbooks are level based workbooks and are the brain teasers for the sharp minds. There are 6 workbooks in this and the books are good for kids aged 4+ years. These books are perfect workbooks to encourage application based learning in kids and help in motivating kids to think and reason to find solutions. There are different sets of engaging activities in each workbook. The kids get to spend hours doing these activities.
Ready for school workbooks prepare the kids for the school. These workbooks promote application based learning and are ideal for young learners aged 4+ years. There are four workbooks in the series: addition & subtraction, addition, subtraction, multiplication & division, reading & vocabulary and writing & spelling. The kids get to learn through fun filled activities.
My Book of Creative Writing
Getting kids to write is not an easy task. They tend to run away when told to write. But these books of creative writing ease your burden and let the little ones sit and learn to write. These are level based books from level 1 to level 6. The parents could opt for any of these as per the child's requirement. These books of creative writing are sure to bring out the writing champ in your little ones. 
Pegasus offers more such workbooks for the little learners. One could choose from their wide variety of workbooks. Not only workbooks but they have activity books, colouring books, picture and storybooks, puzzles for little ones. Parents could buy their products from their bookstores in Delhi and Noida or from the website.